If you're looking for the best non-invasive body contouring in Richmond, look no further than The Skin Rejuvenation Center at Richmond Surgical Arts. With the fat-freezing technology of CoolSculpting and the muscle-toning powerhouse of CoolTone, you can lift, sculpt, and tone the body without any downtime. Richmond Surgical Arts is proud to be the ONLY office in Richmond to offer CoolTone, which offers 50 percent more magnetic intensity that its leading competitor.
What is CoolSculpting?
CoolSculpting is not a weight loss treatment-it's the #1 non-surgical fat reduction treatment used by doctors. The unique fat-freezing technology is a scientifically proven way to reduce pockets of fat in trouble areas such as the abdomen, love handles, and under the chin by up to 20% in as little as one session. CoolSculpting is FDA-cleared to treat 9 different areas of the body to quite literally freeze – and kill – fat cells.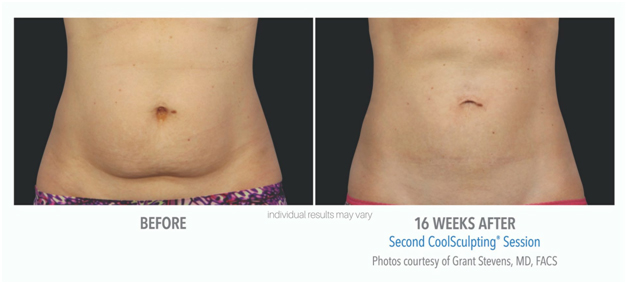 What is CoolTone?
CoolTone is a non-invasive body contouring treatment that uses Magnetic Muscle Stimulation (MMS) to strengthen, tone, and firm muscles. MMS technology penetrates deep into the muscle layers and induces involuntary muscle contractions, all in a safe and effective treatment. Your body responds to the contractions by developing stronger muscle fibers, resulting in a firmer, more defined and toned body. A single 30 minuteCoolTone treatment is the equivalent of doing 25,000 sit-ups! CoolToneis FDA-cleared to strengthen, tone, and firm the abdomen, buttocks, and thighs.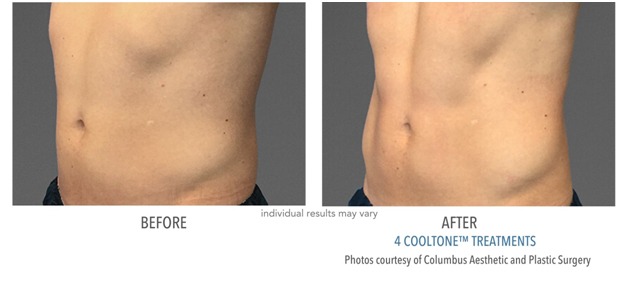 Should I do CoolSculpting or CoolTone?
Every patient is different! It all depends on your natural body shape, the areas you want to target, and the end result that you are seeking. Patients looking for more muscle definition (think a stronger, more defined six-pack) may choose CoolTone, while those looking to target fat (think getting rid of that small belly pooch) may choose CoolSculpting. Typically, a combination of both treatments is used for overall body contouring. If you are looking to lean out or firm up call us today at 804-560-5260 to set up a complimentary, no-obligation consultation.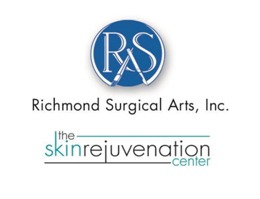 Richmond Surgical Arts
The Skin Rejuvenation Center
8720 Stony Point Parkway, Suite 100
Richmond, VA 23235
804-560-5260
www.richmondsurgicalarts.com